Hearty, Warm & Satisfying
Zoodles with Spicy Bell Pepper Sauce
Swapping in zucchini noodles offers a low-carb alternative to traditional pasta, delivering a flavorful meal that's sure to satisfy.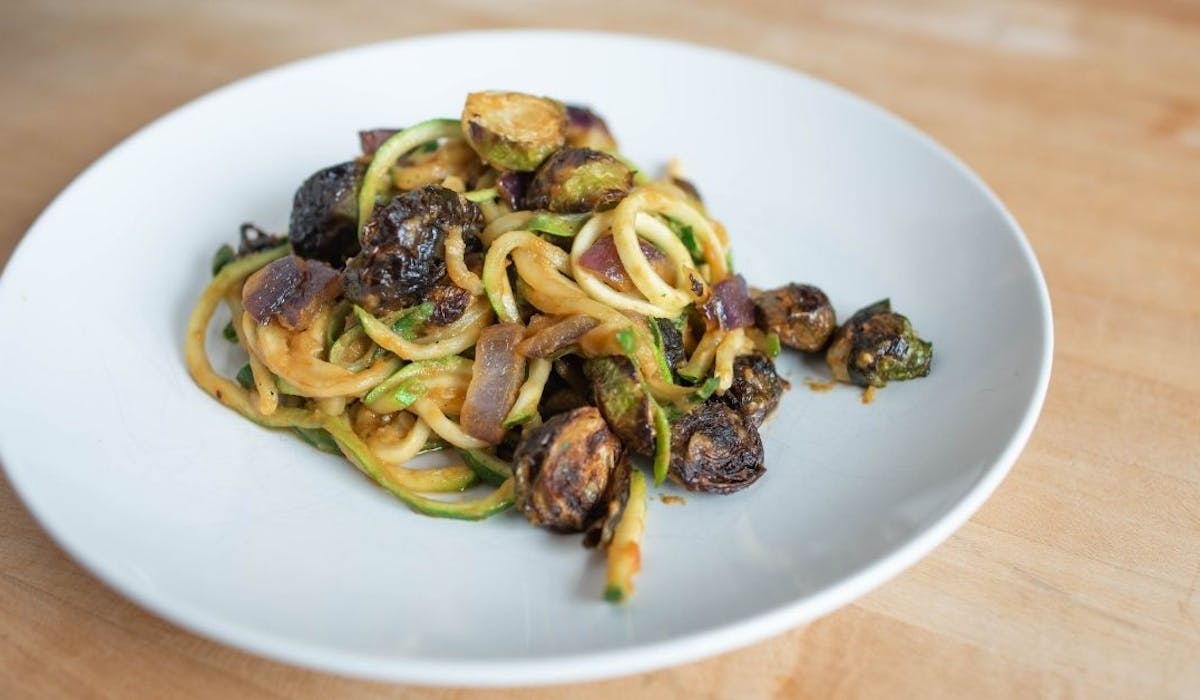 Using just a little bit of water to blend the flavor-packed mix of peppers and onions, creates a thick sauce that clings to the zoodles. Roasted Brussels sprouts deliver additional texture and nutrients, making this meal even more satisfying.
Zoodles with Spicy Bell Pepper Sauce
Serves 2
1 red bell pepper
1 jalapeño
1 white onion, chopped
6 olive oil
2 cloves garlic
salt and pepper to taste
½ pound Brussels sprouts
1 red onion, roughly chopped
2 medium zucchinis (or yellow squash)
Turn oven to broil. Line a rimmed baking sheet with aluminum foil. Place bell pepper and jalapeño on baking sheet and put in oven on rack second closest to the top. Blacken peppers, turning every few minutes until skins are fully charred.
Place peppers in a plastic bag. Twist top to close and allow peppers to sweat for 10 minutes or until cool enough to handle. Peel off skins. Discard. Remove and discard stems and seeds. Place peppers in a blender.
Heat 2 TBS oil in a medium sized skillet over medium. Add onions and sauté, stirring constantly until caramelized (10 – 15 minutes). Add garlic and sauté until fragrant (1 minute). Add mixture to blender. Blend until smooth, adding water 1 TBS at a time, as needed. Season with salt and pepper to taste. Set sauce aside.
Preheat oven to 375 degrees. Line a baking sheet with parchment paper. Trim the stems and halve Brussels sprouts. Toss Brussels sprouts with 2 TBS olive oil. Salt and pepper to taste. Arrange in an even layer on prepared baking sheet. Bake for 25 minutes, until sprouts begin to brown.
While sprouts are baking, heat remaining 2 TBS olive oil in a large, flat-bottom skillet. Add red onion and sauté over medium-low heat, allowing onions to soften.
Using a spiralizer, spiralize the zucchini into 'zoodles'. Once sprouts are finished remove from oven. Turn pan with onions up to medium-high heat. Add zoodles. Cook until zoodles begin to soften and become pliable (2 – 3 minutes).
Add sprouts and half the sauce. Toss contents of pan to fully combine, adding more sauce as needed. Serve immediately.